25% off
ZERO interest financing
No high pressure salespeople
Lifetime warranty
Need help choosing a new roof? One of our professional design consultants will contact you to set up an in person appointment to help educate you about your options. No high pressure sales, we promise.
Request a free, no pressure, consultation!
EDCO Steel Roofs
Steel roofs last a lifetime, lower energy costs, survive more extreme weather and are backed by a better guarantee than almost any other roofing product on the market. At American Quality Remodeling we depend on the experts at EDCO, who offer numerous steel roofing styles, a variety of slate and shake steel shingles, contemporary color options and a Warranty Plus program. Learn more about their metal and steel roofing product lines below:
Arrowline® Roofing Collection
EDCO ArrowLine® roofing products have received the highest possible hail rating, and use a unique four-way interlocking system that withstands winds of up to 160mph. ArrowLine® metal roofing is available in a rich range of contemporary colors, all coated with a deluxe TRINAR® finish for flawless, fade-proof color retention. This line is available in either a metal slate or steel shake patterning. As with all our steel roofs, ArrowLine® metal roofing carries a lifetime, non-prorated limited warranty that is fully transferable with the sale of the home. In most states, installing an ArrowLine® roof may lower your insurance cost for even more savings.
Generations Roofing Collection
Engineered for maximum strength and durability, the EDCO Generations® line is available in nine nature-inspired colors. EDCO uses a unique imaging process that retains the custom color palette beautifully. A natural-looking HD impression is bonded between two layers of TRINAR® for a flawless, tough finish. This revolutionary process adds beauty and value to your home for years to come, guaranteed! Generations Steel Roofing is manufactured with a unique 4-way interlocking system and are tested to withstand winds up to 160mph. EDCO steel roofs also have the highest possible hail rating (class 4).
The materials at the heart of the Infiniti steel roofing line, pack the industry's best protection from fire, rain, hail impact, and everything else that life can throw at it. Infiniti's deep color palette is thermal-fused for permanent beauty and its sound-deadening coating mutes external sound. Infiniti's natural grain and multi-tone shading has the contour, depth, and texture to create the look you want on your home. Its unique four-way interlock system withstands wind and rain of up to 160 mph. This is steel roofing that won't chip, crack, fade, or peel — guaranteed.
Drexel Metal Roofing Systems
The perfect complement to any structure, Drexel Metals engineered metal roofing provides more benefits than eye-catching aesthetics. Energy saving benefits, a lifetime of protection and more, the Drexel Metal roofing systems deliver technical advancements, while maximizing cost efficiencies and sustainability.
Classic Metal Roofs
Classic Metal Roofs, LLC is a highly experienced New England metal roofing contractor serving all of Southern New England, including: Massachusetts, Rhode Island, Connecticut, and Southern New Hampshire. Well established for over a decade, Classic Metal Roofs, LLC installations are widespread across New England, for all types of metal roofing solutions.
Oxford "Slate" Metal Roofing Shingle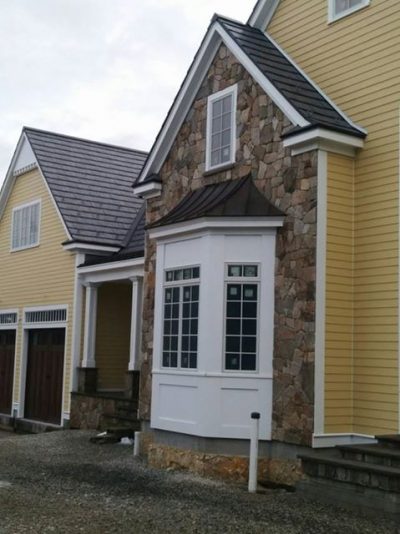 Standing Seam Metal Roofing
Rustic "Shake" Metal Roofing Shingle
How Can We Help Improve Your Home?