25% off
ZERO interest financing
No high pressure salespeople
Lifetime warranty
Need help choosing a new roof? One of our professional design consultants will contact you to set up an in person appointment to help educate you about your options. No high pressure sales, we promise.
Request a free, no pressure, consultation!
Our Metal Roofing Options Near North New Jersey, South New Jersey, and Philadelphia
EDCO Steel Roofs
Choosing metal roofing made from steel increases longevity, reduces energy costs, and helps your roof stand up to harsh weather conditions. Our metal roofing contractors serving New Jersey, Philadelphia, Pennsylvania, & Delaware offer the best guarantees for residential metal roofing in the industry. American Quality Remodeling offers metal roofs for sale from EDCO, a company manufacturing various metal roofing options in slate and shake steel shingle configurations, in various contemporary color schemes. Every metal roof includes the Warranty Plus program for peace of mind. Below, you will find our residentla metal roofing product lines:
Arrowline® Roofing Collection
The EDCO ArrowLine® metal roofing system has the highest hail rating and uses an innovative four-way interlocking system. This system allows your roof to withstand winds up to 60mp. You can choose from various contemporary colors for your metal roofing installation with deluxe TRINAR® coating to resist fading and retain color. You can choose from metal slate and steel shake patterns with a lifetime, non-prorated limited warranty that transfers if you sell your home. You can reduce your insurance costs when you get this metal roofing.
Generations Roofing Collection
EDCO Generations® offers optimal durability and strength with nine nature-inspired colors. The innovative imaging process retains the color for long-lasting beauty. This product bonds a natural-looking HD impression between layers of TRINAR® for a durable, flawless look that lasts. We guarantee you will add beauty and value to your home for many years with this metal roofing installation close to North New Jersey, South New Jersey, and Philadelphia. Generations roofing uses a revolutionary four-way interlocking system to withstand winds up to 160 mph. This residential metal roofing carries the highest hail rating.
Infiniti steel roofing uses high-quality materials to offer the best fire, rain, and hail protection for your property. You can choose from a deep color palette, sealed with thermal fusion to maintain beauty. This metal roofing includes sound-deadening coating to bring quiet into your home. The infiniti roofing features multi-tone shading and natural grain to add texture, depth, and contour to give you the best appearance for your home. This roofing system uses a four-way interlock system to hold up against rain and wind up to 160 mp. Our metal roofing contractors guarantee your roof won't crack, peel, fade, or chip.
Drexel Metal Roofing Systems
Drexel Metals offers the perfect complement for your home. The company created metal roofing that enhances a home's aesthetics and more. You can expect lifetime protection, energy savings, and more when you choose Drexel Metal roofing systems. It's a cost-effective, sustainable roofing material that delivers technical advancements.
Classic Metal Roofs
Classic Metal Roofs, LLC is a highly experienced New England metal roofing contractor serving all of Southern New England, including: Massachusetts, Rhode Island, Connecticut, and Southern New Hampshire. Well established for over a decade, Classic Metal Roofs, LLC installations are widespread across New England, for all types of metal roofing solutions.
Oxford "Slate" Metal Roofing Shingle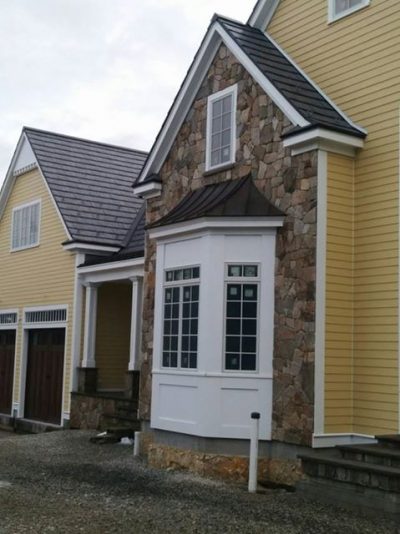 Standing Seam Metal Roofing
Rustic "Shake" Metal Roofing Shingle
How Can We Help Improve Your Home?